Each year, stakeholder representatives from over 100 organisations who participate in the Groningen Declaration Network, gather at the GDN Annual Meeting to share, learn and lead discussions on developing capabilities, policies and technical platforms to improve data exchange as a support to citizen and learner mobility. With the advent of the new hybrid event design, our audience continues to grow with over 170+ delegates attending in person or virtually in 2022.
In 2023, the 12th Annual Meeting will take place on 17-19 October in the beautiful cities of Amman and Irbid, Jordan. Delegates will stay in Amman, Jordan.
We will share more information about the GDN Annual Meeting in Jordan with you soon! In the meantime, plan your trip and browse the wonderful sights and pictures of Jordan we have curated for you on this site.
Welcome to Jordan and to JUST, our host for the 2023 GDN Annual Meeting.
Jordan is a land steeped in history. It has been home to some of Humankind's earliest settlements and villages; harboring hidden relics from the world's great civilizations.
As the crossroads of the Middle East, the lands of Jordan and Palestine have served as a strategic nexus; connecting Asia, Africa, and Europe. Since the dawn of civilization, Jordan's geography has given it an important role as a conduit for trade and communications; connecting the orient with the west. Jordan continues to play a critical role in geopolitical affairs.
JUST
Jordan University of Science and Technology (JUST) is a distinguished academic and research institution, dedicated to providing students with an engaging learning environment and a supportive campus culture. JUST (www.just.edu.jo) is a flourishing academic institution, comprehensively offering top-quality education in all fields of science and technology. More than 29,000 students are currently enrolled at JUST, with nearly 60% of these being females. International students comprise approximately 15% of JUST students, making JUST the most culturally diverse higher education institution in Jordan.  
The City of Amman, the main conference location
"If you've never been to the Middle East, Amman (and Jordan as a whole) is your perfect introduction. Not only was Amman a central crossing point of and the birthplace of several great civilizations, but it is also a city that is constantly in development, with a stark contrast between its east and west. Amman is westernized but maintains its Middle Eastern flair, brimming with mouth-watering food and incredibly hospitable people. Particularly remarkable is Amman's bowl-shaped center, monochrome as far as the eye can see. A city law required all houses to be built in the same light color palette, resulting in a beautiful sandy view best seen from the top of the hill at the Citadel." —Reine Gammoh
The City of Irbid, site visit on day 2
Irbid is a bustling Jordanian city brimming with museums, ancient architecture, and an upmarket city charm. As the city is less frequented by tourists than Jordan's more popular cities, a visit to Irbid and JUST will uncover an authentic Jordanian lifestyle with delicious street side food stalls, restaurants and local shops.
Irbid also makes an ideal base for those who wish to explore the beauty of the northern Jordan Valley and the stunning archaeological sites of Pella and Umm Qais.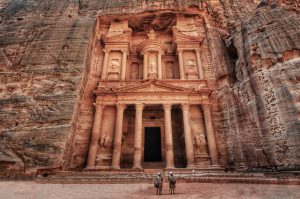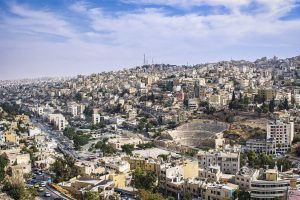 A Complete Guide to Amman